Screening at 9pm on Sunday 2 November, Sharpe's Peril pulled in 5.3 million viewers, a 23.5% share, to ITV1. The concluding episode, screening at 9pm on Sunday 9 November, attracted 4.6 million viewers, an 18.8% share. The drama received some great reviews.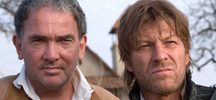 It looks jolly good, and fans of military adventure, Sean Bean and Bernard Cornwell will be in heaven.

Daily Mail

Stunningly shot on location in India…It's a typically colourful two-part tale of bandits, brigandry and betrayal in the heat and dust of the pre-Raj era of the East India Company.

Gerard O'Donavan, The Daily Telegraph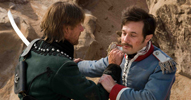 Sean Bean gets ready to buckle some swash as his rogue swordsman returns to romp his way through the empire.

The Guardian Guide

It is a little acknowledged truth that when times are dire, the nights are cold and grey and the economy is collapsing around us, there is no better place to find comfort than in a two-part swashbuckler complete with daring deeds, villains vanquished and maidens in danger of imminent despoiling. And no one is better at swashing that buckle than Sea Bean, aka Lieutenant Colonel Richard Sharpe ... the most curmudgeonly hero ever to stride tight-panted across our screens.

The Observer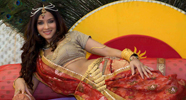 Most costume dramas today venerate historical accuracy: It is a simple pleasure to see such uncomplicated Boy's Own fun …

Victoria Segal, The Sunday Times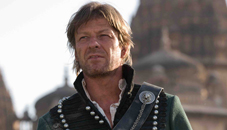 Like a televisual comfort blanket in these austere times, Sharpe is back, ticking all the boxes we expect of this long-running costume adventure drama.

Mark Wareham, The Mail On Sunday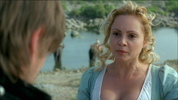 ... this is Sunday-night comfort viewing par excellence.

The Mail On Sunday Live Magazine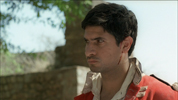 Sharpe returned to ITV in Sharpe's Peril and was in good form ... Sean Bean is still the perfect hero.

Andrew Billen, The Times